These are the best day trips from Chicago IL.
When I was growing up in Iowa, Chicago was the major city near us. I remember my older cousin taking road trips and returning with exciting stories of the big city. It wasn't until college when I had moved to the South that I managed to visit Chicago for the first time.
Chicago is situated on the shores of Lake Michigan and is a vibrant city famous for its deep dish pizza, museums, and instantly recognizable architecture.
There's a lot to do in Chicago already, but it also makes a great base to explore the Midwest (especially Illinois, Wisconsin, and Michigan) when you need an escape from the city.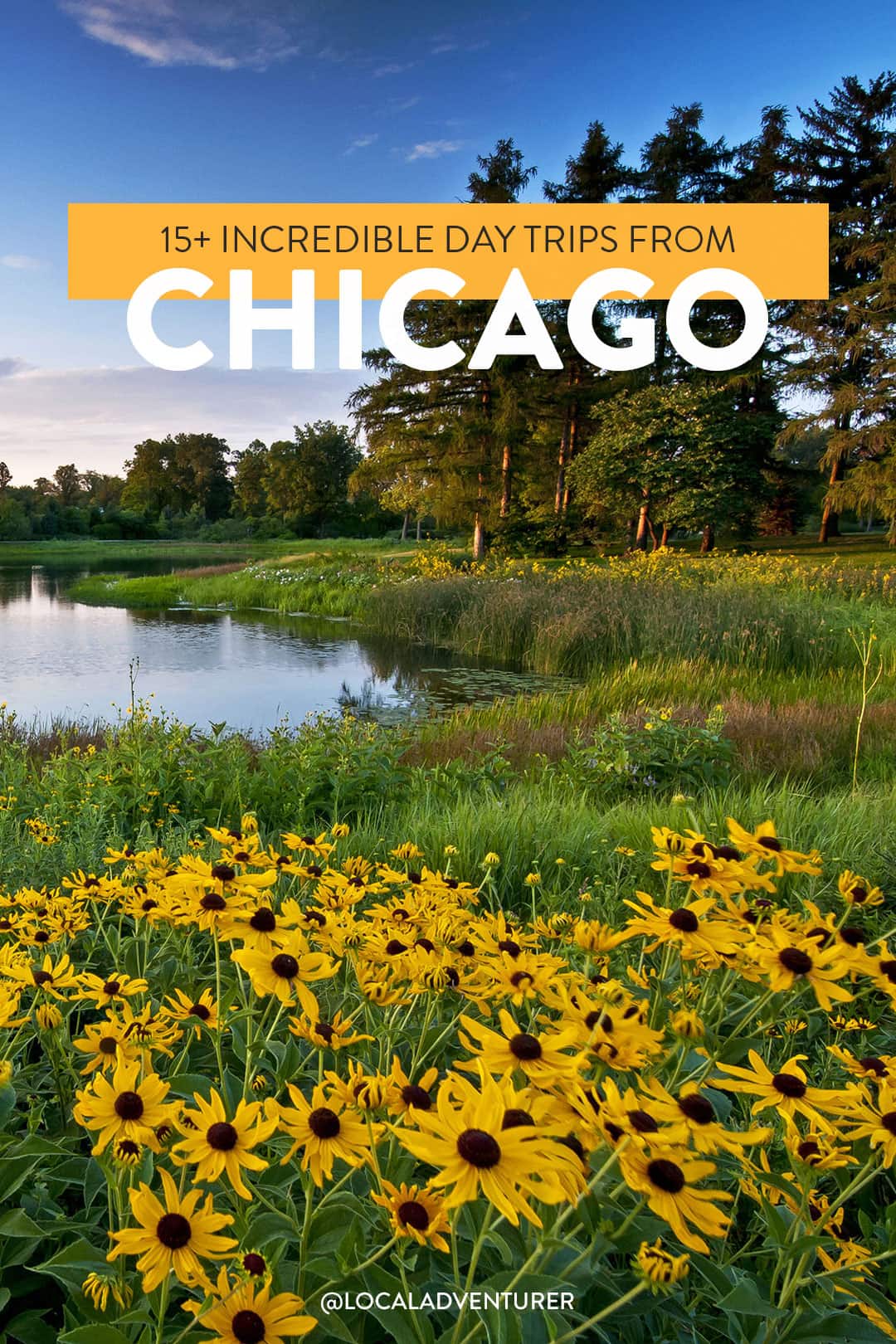 This post may contain affiliate links, where we receive a small commission on sales of the products that are linked at no additional cost to you. All opinions are always our own. Read our full disclosure for more info. Thank you for supporting the brands that make Local Adventurer possible.
Last Updated: August 17, 2020
15 Spectacular Day Trips from Chicago
I know when you think of the Midwest, you picture endless corn farms (there's that too!). But beyond the cornfields, it's a region filled with culture and stunning landscapes as these day trips from Chicago will prove.
193 N Marion St #208, Oak Park, IL 60301, map
Distance: 9.1 / 15 min
Things You Can't Miss: Frank Lloyd Wright Home & Studio, Ernest Hemingway Birthplace, Unity Temple
What to Eat: Pete's Red Hots, Freddy's Pizza, Rustico
Oak Park is right next to the West side of Chicago. Before the world discovered Frank Lloyd Wright, the architect spent his early days designing homes for the residents of Oak Park, and the city is a gold mine for his work.
First, take a tour of the Frank Lloyd Wright Home and Studio. Afterward, visit his Unity Temple, considered to be the first modern building in history. Then, take a stroll around a small section of Oak City to appreciate Wright's 25 homes still standing.
There is more than one famous resident from Oak City. Renowned author, Ernest Hemingway was born here and you can tour his Victorian birthplace too. And, if you need a respite from architecture and interiors, you can enjoy the exotic plants at the Oak Park Conservatory.
42.1342106,-87.7985822, map
Distance: 24.3 mi / 31 min
Things You Can't Miss: Chicago Botanic Garden, Skokie Lagoons, Home Alone House
What to Eat: Frank & Betsie's Restaurant, Bake Homemade Pizza
The village of Glencoe on Chicago's north shore is a quick and easy day trip from Chicago. The main attraction is the Chicago Botanic Garden. Spend the day in any of the 27 gardens and stop to smell the roses (and all the other flowers).
If you're not in a hurry to get back to the city, explore the Skokie Lagoons Nature Preserve, where you can walk around lagoons looking for wildlife or rent a kayak and enjoy the tranquil waters.
Don't leave Glencoe without exploring the village itself. Besides charming boutiques and restaurants to peruse, there are historic homes, including 13 by Frank Lloyd Wright, and the most famous house in the area that was featured in Home Alone.
3. Morton Arboretum, Illinois
4100 IL-53, Lisle, IL 60532, map
Distance: 26.1 mi / 36 min
Things You Can't Miss: Hiking Trails, Acorn Tram Ride
What to Eat: Manna Kitchen, The Bavarian Lodge, Burrito Parrilla Mexicana
Lisle is part of Greater Chicago, but there's plenty to do to make it a day trip. The Morton Arboretum is a living museum encompassing 1,700-acres and hundreds of varieties of trees and plants. Spend a leisurely day immersed in green forests on any of its 16-miles of hiking trails.
Highlights include a gentle walk around the Meadow Lake or a trip into woodlands via the Heritage Trail. You can also see the entire park on the narrated Acorn Tram Ride, and in the course of an hour, you tour the arboretum's woodlands, wetlands, and prairies.
4. Illinois Beach State Park, Illinois
1 Lake Front Dr, Zion, IL 60099, map
Distance: 47.5 mi / 1 h 5 min
Things You Can't Miss: Swimming, Hiking Trails, Fishing
What to Eat: Taqueria Los Naranjos, The Shanty
Who doesn't love a day out on the beach? The Illinois Beach State Park is no ordinary beach outing. Located along a 6.5-mile stretch of beach on Lake Michigan, this state park offers an assortment of landscapes from sand dunes, wetlands, and black oak forests.
Explore the area on any of the 5 miles worth of trails including the easy Camp Logan Trail. Afterward, relax on the sand and discover why it's one of the most scenic beaches in the Midwest.
5. Indiana Dunes National Park, Illinois
1215 N State Rd 49, Porter, IN 46304, map
Distance: 48.9 mi / 59 min
Things You Can't Miss: Sand Dunes, Historic Homes, Hiking Trails
What to Eat: Fiddlehead Restaurant, The Polish Peasant, Mucho Mas
Indiana Dunes National Park is a perfect escape from the city where you can breathe in the fresh air. Sand dunes hug the shore along a 15-mile stretch of Lake Michigan.
Enjoy the cover of black oak forests or appreciate the beauty of the wetlands and marsh, an ideal spot for birding and wildlife viewing. Other outdoor activities include swimming and fishing. With 50 miles of trails, you are sure to stay active.
Don't miss the Dune Ridge Trail (0.7 miles), Paul H. Douglas Trail (3.4 miles), and the Portage Lakefront and Riverwalk (0.9 miles). The national park also protects 60 historical structures including the Bailly Homestead and a series of houses from the 1933 World's Fair that you can tour.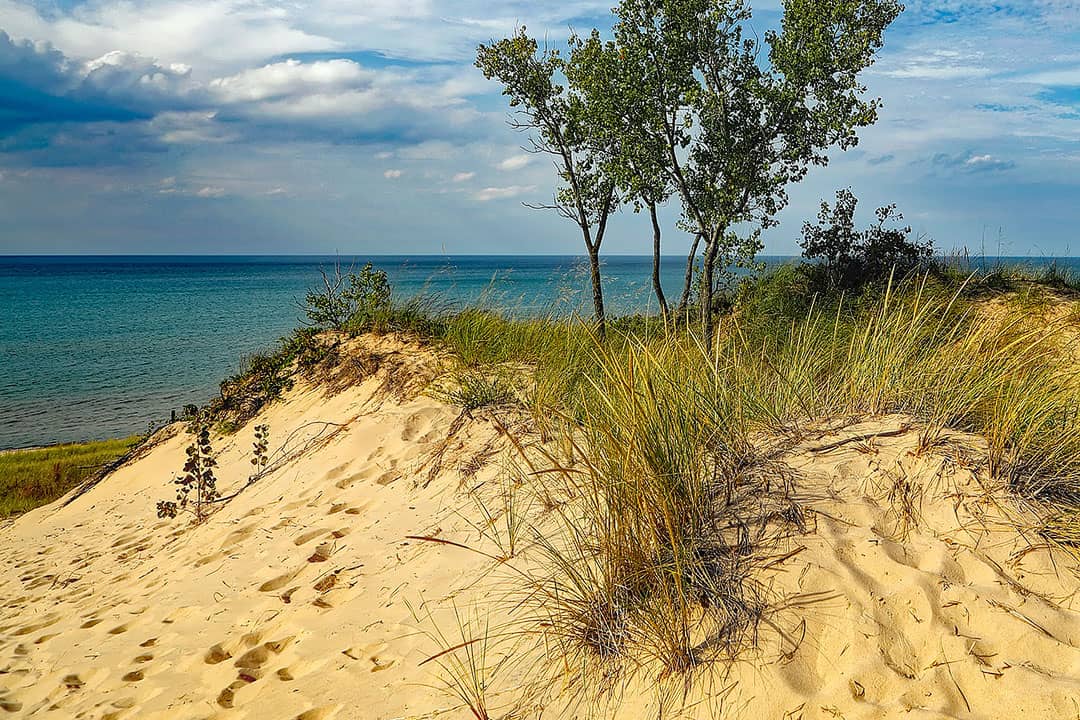 6. Kankakee River State Park, Illinois
5314 W, IL-102, Bourbonnais, IL 60914, map
Distance: 57.8 mi / 1 h 7 min
Things You Can't Miss: Kankakee River, Hiking, Canoeing
What to Eat: Burgers & Beer, BrickStone Brewery, New York City Deli
Unspoiled landscapes make up the beauty of the Kankakee River State Park. Though it's approximately an hour from the city, this one day trip from Chicago will make you feel like you've entered another world.
For hikers, there's a 3-mile trail showcasing the beauty of the canyon walls featuring a waterfall. If you have a bike, enjoy the 11-mile bike path that follows along the river. You can also rent a canoe and spend the day on the river.
7. Midewin National Tallgrass Prairie, Illinois
30239 IL-53, Wilmington, IL 60481, map
Distance: 60.1 mi / 1 h 06 min
Things You Can't Miss: Tallgrass Prairie, Bison Herd
What to Eat: The Launching Pad, Nelly's Restaurant on Rt 66, New China Restaurant
Midewin National Tallgrass Prairie is the only tallgrass prairie east of the Mississippi River. This unique spot guarantees a tranquil day of bird watching and hiking any of the 22 miles of trails. Hikes you can't miss include Turtle Pond (4.0 miles), Prairie Creek Woods Loop (2.0 miles), and Henslow's Trail (5.3 miles). You also can't leave without seeing the wild herd of bison reintroduced into the region in 2015.
8. Dayton Bluffs Preserve, Illinois
2997 IL-71, Marseilles, IL 61341, map
Distance: 79.9 mi / 1 h 21 min
Things You Can't Miss: Fox River, Waterfalls, Native American Burial Mounds
What to Eat: Lone Buffalo by Tangled Roots Brewing Company, Sandi's Bar & Grill, Court Street Pub
A true hidden gem in Illinois is the Dayton Bluffs Preserve, where you can experience acres of prairies, woodlands, Native American burial mounds, waterfalls, and the Fox River.
As a relatively new park, you get to feel like you're in the wilderness. A 2.7-mile loop mixes the prairie and woodlands features. If you have a full day, there are smaller trails to explore in the park too.
9. Lake Geneva, Wisconsin
201 Wrigley Dr, Lake Geneva, WI 53147, map
Distance: 82.8 mi / 1 h 31 min
Things You Can't Miss: Lake Geneva, Big Foot Beach State Park, Black Point Estate and Gardens
What to Eat: Fitzgeralds Genoa Junction, Mars Restaurant & Resort, Joni's Diner
Bring your swimsuit and cool off in the water or take a cruise around Lake Geneva.
On Lake Shore Path, you will pass mansions from the Gilded Age. If you have the energy, hire a bike and complete the 20-mile circuit around the lake.
To see how people lived in splendor in the past, take a tour of the Black Point Estate and Gardens or relax at Big Foot Beach State Park.
400 W Wisconsin Ave, Milwaukee, WI 53203, map
Distance: 92.2 mi / 1 h 34 min
Things You Can't Miss: Milwaukee Art Museum, Harley Davidson Museum, Mitchell Park Domes
What to Eat: St Paul Fish Company, Swingin' Door Exchange, The Vanguard
Milwaukee is renowned for its beer, but there is so much to discover. The Milwaukee Museum not only offers visitors a cultural experience inside with its massive collection (including the largest collection of Georgia O'Keefe) but the outside leaves you in awe with its modern design and moveable wings.
When you think motorcycles, Harley Davidson immediately comes to mind. Experience the history of this cultural company and view over 400 motorcycles. Or, take in the living museum of the Mitchell Park Domes, where plants from around the world thrive in different ecosystems.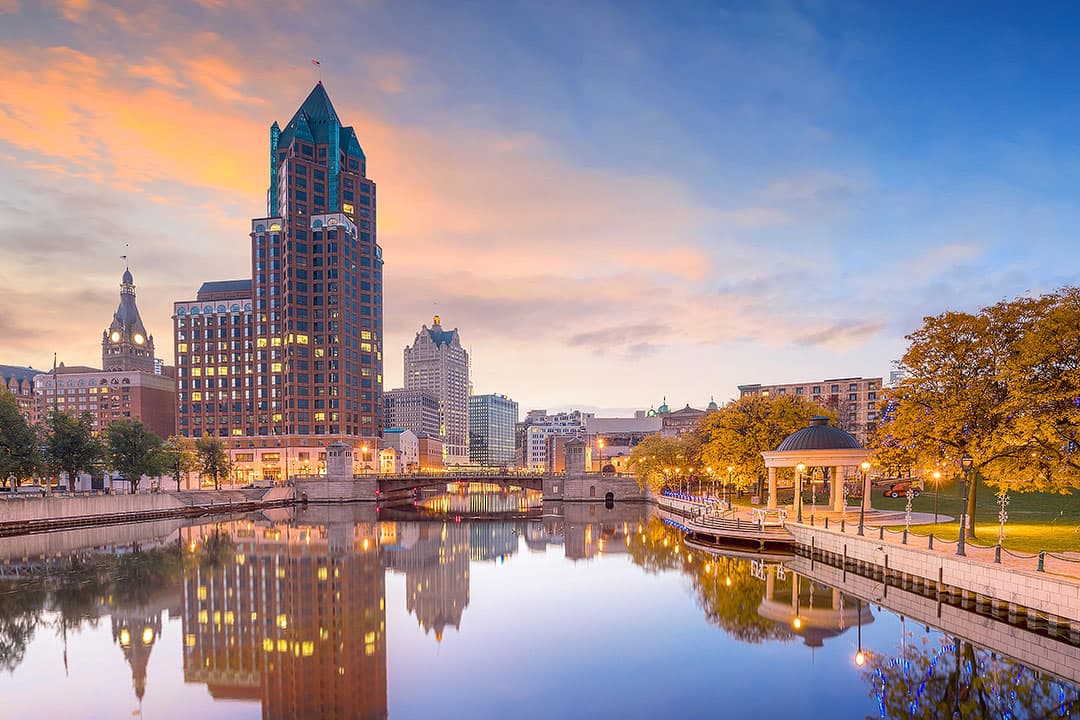 41.2954236,-89.1032013, map
Distance: 101 mi / 1 h 42 min
Things You Can't Miss: Starved Rock State Park, Matthieson State Park
What to Eat: Uptown Grill, Haze Smokehouse, Stone Jug Barbecue
Towering sandstone canyons and picturesque waterfalls combine to make Starved Rock State Park, a must-visit if you love the outdoors. With 18 canyons and 13-miles of trails, there is endless beauty to see from a bird's eye view or deep within canyons.
Popular trails include the Starved Rock and Sandstone Point Overlook Trail, Saint Louis Canyon Trail, and French Canyon Trail.
Deep canyons and bluffs are also the dominant features of Matthieson State Park. Follow the river into the canyon to Cascade Falls. Unusual rock formations dot the 5 miles of hiking trails within the park. Take a turn on the easy Dells Canyon and Bluff Trail or go for a more involved hike to the Vermillion River.
42.5943816,-86.1151028, map
Distance: 140 mi / 2 h 24 min
Things You Can't Miss: West Side County Park, Fenn Valley Vineyards, Crane Orchards
What to Eat: Blue Goose Café, Salt of the Earth
It's easy to forget time as you enjoy the simple pleasures found at Fennville, Michigan. Lose yourself in the stunning views across Lake Michigan at West Side County Park or relax while sipping a glass of wine at the Fenn Valley Vineyards.
You can also feel like a kid again as you pick fruit fresh from the orchard at Crane's U-Pick Farm. The different seasons dictate what fruit is available, and the 20-acre corn maze is the highlight
13. Apple River Canyon State Park, Illinois
8763 E Canyon Rd, Apple River, IL 61001, map
Distance: 144 mi / 2 h 23 min
Things You Can't Miss: Nature Trails, Limestone Bluffs
What to Eat: JJ & Freddies, Stella's Café & Catering
The passage of time is beautifully on display at the Apple River Canyon State Park. For millions of years, the Apple River slowly carved its way through the rocks, creating the canyons seen today. There are five trails for a combined total of around 5 miles where you can spend the day in serenity.
78 E 8th St, Holland, MI 49423, map
Distance: 150 mi / 2 h 31 min
Things You Can't Miss: Downtown, Windmill Island Gardens, Big Red Lighthouse, Beaches
What to Eat: Salt & Pepper Savory Grill and Pub, El Huarache, New Holland Brewing
Imagine traveling to Europe without having to leave the country. That is what it feels like as soon as you set foot in Holland, Michigan. Dutch influences are everywhere making Holland one of the prettiest cities in the US.
Downtown Holland is filled with charming shops, restaurants, and breweries. You especially can't miss the magical Windmill Island Gardens where over 10,000 tulips erupt in color in spring. Also, check out DeZwaan, the only true Dutch windmill in the US, in action.
Finish the day by relaxing on one of the many beaches and the Big Red Lighthouse, the most photographed lighthouse in Michigan.
15. Grand Rapids, Michigan
171 Monroe Ave NW, Grand Rapids, MI 49503, map
Distance: 181 mi / 2 h 54 min
Things You Can't Miss: Frederik Meijer Gardens & Sculpture Park, Gerald Ford Presidential Museum, Grand Rapids Museum of Art
What to Eat: Butcher's Union, The Green Well, The Mitten Brewing Co.
The Frederik Meijer Gardens and Sculpture Park is part garden and part art museum and is the one spot you shouldn't miss in Grand Rapids. Strolling in the 158-acre site is an experience you won't forget with over 10 different gardens and sculptures by renowned artists like Rodin and Degas.
Continuing your artistic experience, traverse Calder Plaza to behold the mammoth, red sculpture, La Grande Vitesse, an icon of the city. Then, continue to the Grand Rapids Museum of Art to appreciate, not only the 19th and 20th century art, but also the first certified LEED museum in the US.
If you're a history buff, step back in time as you explore the museum detailing the life of Gerald Ford, the 38th president of the United States. Tour a replica of the Oval Office and pay your respects to Ford and his wife, Betty, at their final resting place on the museum grounds.
More Chicago Day Trips Under 3 Hours
Six Flags Great America (44.6 mi / 51 min, map)
Rockford, IL (88.6 mi / 1 h 31 min, map)
University of Notre Dame (94.3 mi / 1 h 42 min, map)
Madison, WI (147 mi / 2 h 23 min, map)
Map of the Best Day Trips from Chicago
The Peninsula (luxury)
Loews Chicago Hotel (mid-range)
Millennium Knickerbocker (budget)
Search for an Airbnb in Chicago
60 Hikes Within 60 Miles: Chicago: Including Wisconsin and Northwest Indiana
Eastern USA Travel Guide
Chicago Travel Guide
Rand McNally Road Atlas
How many of these day trips from Chicago have you done? Any others we should add to our list?
Did you enjoy this post? Pin it for later
ATLANTA
LAS VEGAS
LOS ANGELES
PORTLAND OR
SAN DIEGO
PRAGUE CZECH REPUBLIC
REYKJAVIK ICELAND
"Discovery consists not of seeking new lands but in seeing with new eyes" – M. Proust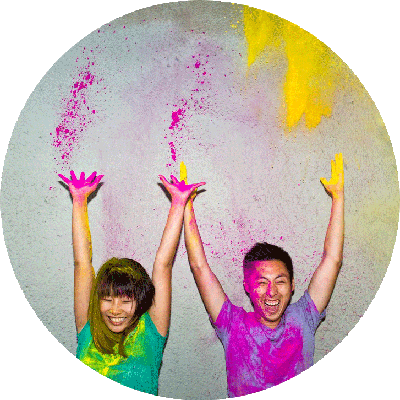 Esther and Jacob are the founders of Local Adventurer, which is one of the top 5 travel blogs in the US. They believe that adventure can be found both near and far and hope to inspire others to explore locally. They explore a new city in depth every year and currently base themselves in Las Vegas.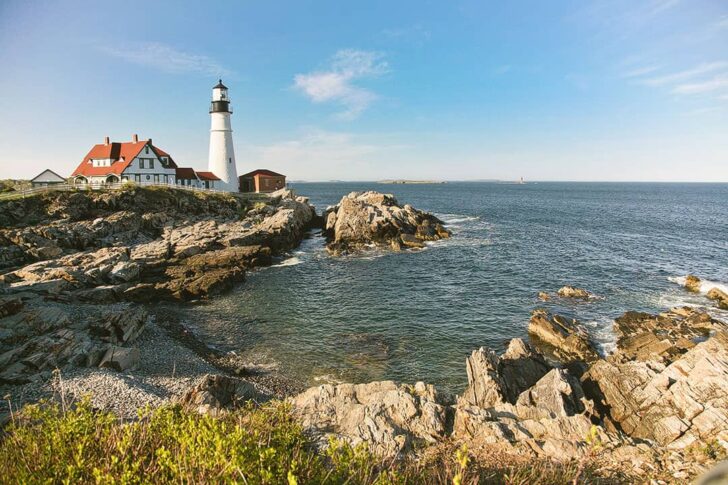 15 Best Romantic Getaways in USA You'll Want to Take This Year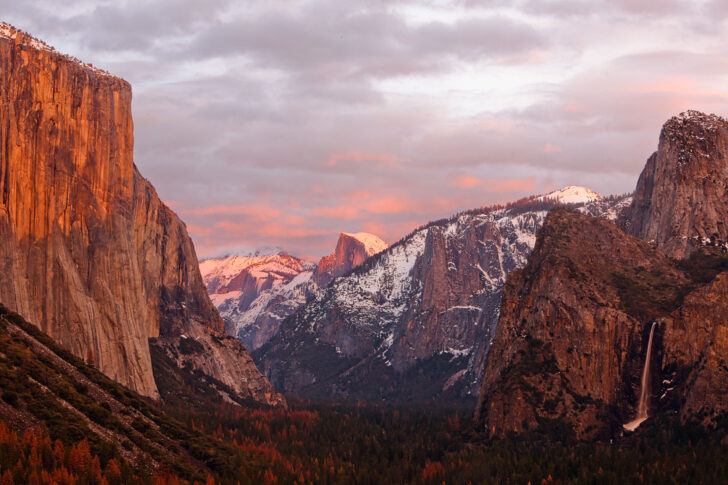 101 Places to Visit in USA – Your Ultimate USA Bucket List
35 Remarkable Things to Do in North Dakota Bucket List
The post 15 Spectacular Day Trips from Chicago IL appeared first on Local Adventurer » Travel Adventures in Las Vegas + World Wide.